Ad-hoc setup on the second computer
1. Open Network Connections folder.
2. Locate the Wireless Network Connection icon and click "View Available Wireless Networks".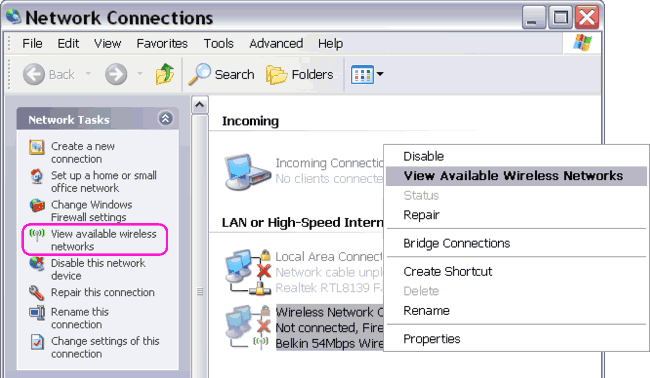 Figure. Viewing available wireless networks from Wireless Network Connection icon.
3. You will be prompted with Wireless Network Connection dialog box. It will show a list of all detected wireless networks within range.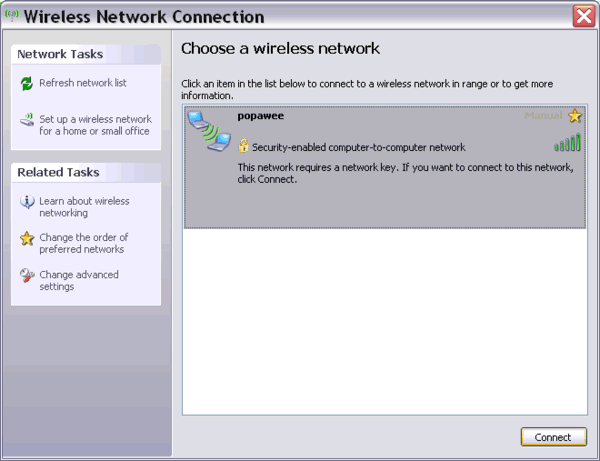 Figure. Starting a wireless connection in one easy step via the Wireless Network Connection window.
For networks to appear on the list, the WZC service on Windows XP must be enabled.
4. Select the name of the newly created ad-hoc network. Click Connect.
5. Type the same network key as on the first computer when prompted. Click Connect. If you did not uncheck "The key is provided for me automatically" during setup on the first computer, leave the network key input box blank.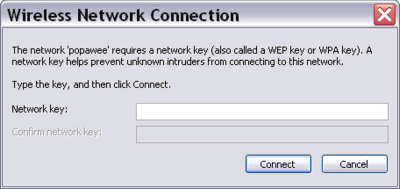 Figure. Type the same network key on the prompt window to start a wireless connection.
Now the Wi-Fi ad hoc network between the two computers is connected. A message balloon appears on the wireless LAN notification icon on the taskbar.

Figure. Wireless network status message on Windows taskbar (system tray) icon.