Home Networking Guide : Connecting Peripherals
USB. A high speed serial interface that has connection rate of up to 12 Mbps in USB 1.1 standard and 480 Mbps in USB 2.0. USB has a unique rectangular connector about 1-inch wide. USB is a popular replacement of the traditional serial and parallel ports for connecting peripherals or other electronic devices to computer. Nowadays, you can easily find mouse, keyboard or printer that has USB connector.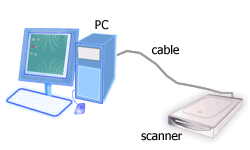 Figure: Connecting a scanner
Most scanners today have USB connector.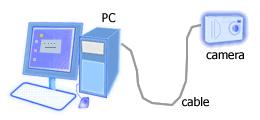 Figure: Connecting a digital camera
Digital camera has a USB connector.
FireWire. A high speed serial interface that has data transfer rate of up to 400 Mbps (1394a) or 800 Mbps (1394b). FireWire is often used for transferring video files from a camcorder to a computer. FireWire is also known as i.Link.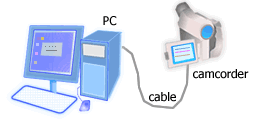 Figure: Connecting a camcorder
Most camcorders have FireWire connector.
When you buy a peripheral or an electronic device, it is usually packed with the necessary cables and connectors for connecting it to a computer or other devices. However some products don't come with cables but provide one or more interfaces for connectivity. In this case you must buy the right cable separately. Be sure to check the type of connection and connector that your device supports before buying a cable for it.