Local Area Connection details on Network Connections folder
3. Before you plug the Ethernet cable (standard or crossover depending your case) into your computers' Ethernet RJ-45 jacks, in Windows Vista and Windows XP you will see the status "Network cable unplugged" in Network Connections folder if Tiles or Details mode is selected in Views on the menu bar.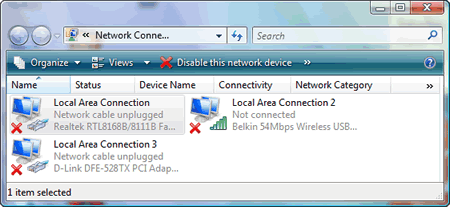 Picture: "Network cable unplugged" on the host computer
(DESKTOP with Windows Vista)
In Windows XP, the status "Network cable unplugged" is also shown on the Details pane if the Local Area Connection for the Ethernet card is highlighted in Network Connections folder.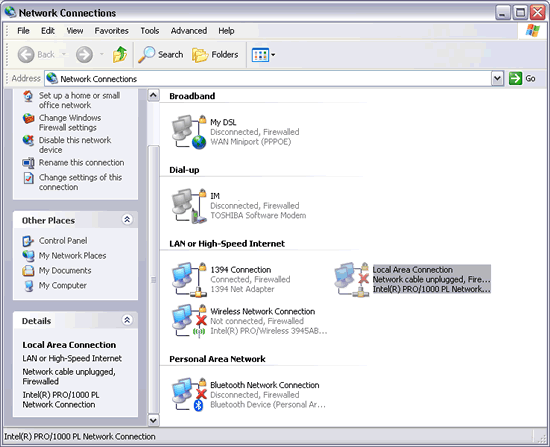 Picture: "Network cable unplugged" on the client computer
(LAPTOP with Windows XP)
In Windows Vista, since there is no network connections at this point, in Network and Sharing Center the network map shows disconnected link from this computer (named DESKTOP in this demo) to Internet globe, with red cross sign on it. You can have an active Internet connection from the start of this direct Ethernet connection setup though. If that's the case you will see this computer already connected to Internet on the network map and the name of your Internet connection is displayed under it.