Internet Tethering over USB Setup on Windows Vista Computer
1. Install iTunes on this PC if you haven't done it before. Then plug the USB sync/charge cable (Dock Connector to USB Cable) that came with the iPhone 3G into the iPhone 3G's Dock Connector and the computer's USB 2.0 port. The necessary driver should be automatically installed when for the first time you plug the iPhone 3G (with Internet Tethering ON), you don't need to do anything. To make sure that the driver for Internet Tethering has been installed, go to Control Panel > System > Device Manager. On Device Manager, you will find Apple Mobile Device Ethernet under Network adapters.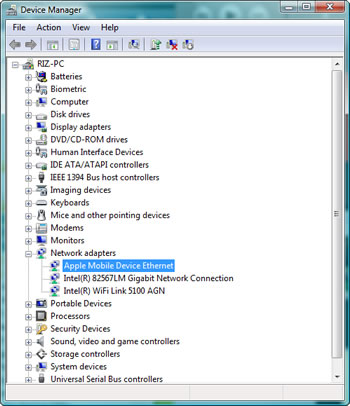 Picture. iPhone 3G as a network adapter on Windows Vista.