Internet Tethering over Bluetooth Setup on iPhone 3G and Windows Vista/XP Computers
Overview
iPhone 3G or iPhone 3GS with OS 3.0 or later can tether computer to Internet over Bluetooth, not because it functions as a 3G modem as other smartphones. It turns out that iPhone 3G or iPhone 3GS acts as a wireless (Bluetooth) access point and router, technically it is a PAN (Personal Area Network) server or PAN-NAP (Network Access Point) in a Bluetooth ad hoc network. A PAN-NAP theoretically can connect up to 7 (seven) PANUs (PAN users/clients) to a LAN (Local Area Network) or Internet.
This feature of Internet Tethering over Bluetooth makes it possible to share one 3G mobile broadband connection of iPhone 3G or iPhone 3GS with seven other Internet access devices, such as Windows or Mac computers (desktop, notebook/laptop, netbook), tablets, smartphones, digital cameras, and game consoles which support Bluetooth PAN User profile. This differentiates iPhone 3G or iPhone 3GS from other smartphones that simply function as a cellular modem when used to tether a computer to the Internet.
Apart from sharing an Internet connection, this Internet Tethering scheme has a plus point in that it can also be used to share files/folders/printers among all PAN-connected users. Even though this network (Bluetooth PAN) has lower speed compared with other established networking technologies, we can still use it as a temporary networking solution when other alternatives aren't available.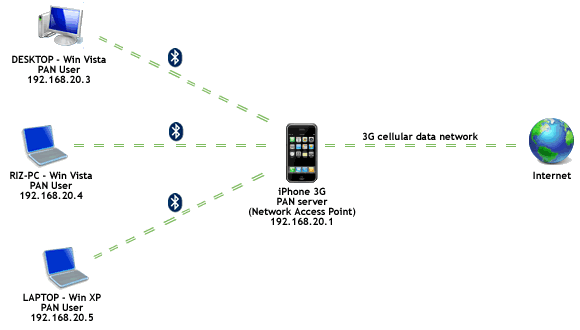 Picture. Three computers connected to the Internet via iPhone 3G.