Bluetooth radio activation on the mobile phone
- Make sure your mobile phone is within range of your computer's Bluetooth adapter. Typically, a mobile phone is equipped with Class 3 Bluetooth radio. Therefore its theoretical maximum range from the PC is about 33 feet or 10 meters.
- Turn on your mobile phone. Follow the instructions in your phone to activate its Bluetooth radio, make it discoverable, and give it a name (optional). On our model phone, from Menu, select Connect. On Connectivity, select Bluetooth. On Bluetooth, turn it On, make it Shown to all, and type a name for your phone. At this stage, the mobile phone hasn't been paired with the computer as indicated on the rightmost screen below.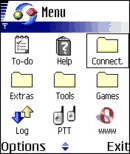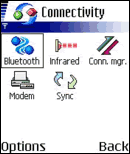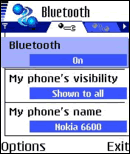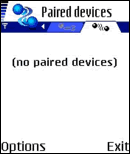 Starting the Add Bluetooth Device Wizard
- Go to Control Panel (in Classic View) and double-click Bluetooth Devices icon to open the Bluetooth Devices window. A much simpler way to install a Bluetooth device is by right-clicking Bluetooth taskbar icon. Click Add a Bluetooth Device. This will directly open the Add Bluetooth Device Wizard without opening Bluetooth Devices window.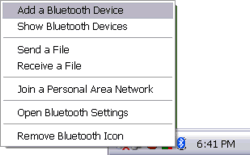 Figure: Bluetooth icon on the system tray to start installing new device.
- Check "My device is set up and ready to be found." Click Next.