Windows XP Networking Guide : Introduction
Here, the discussion is focused on networking features offered by Windows XP Service Pack 2 (SP2). Several important features are available only in Windows XP SP2, the rest are supported by Windows XP SP1 and some previous versions of Windows. Windows XP SP2 provides an integrated security settings center, simplifies the process of creating a wireless network (Wi-Fi) and connecting to the Internet through a wireless network, and enables you to easily connect your Bluetooth devices.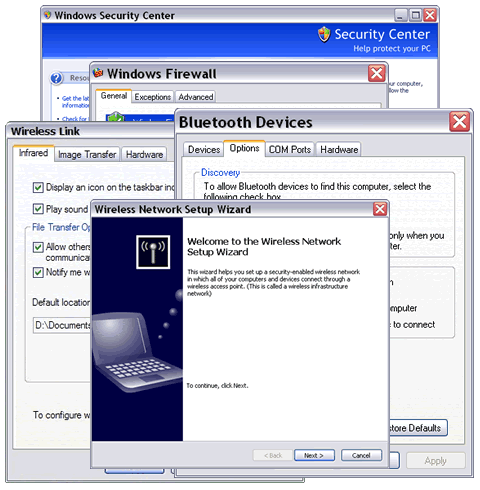 Picture: Windows XP wizards
The latest additions to Windows XP support wireless more and enhance security.
Windows XP SP2 provides easy-to-follow wizards to help you create, manage, and secure your network. The following is a general description of the latest wizards:
- Windows Firewall blocks every outsider attempt to access your computer from the Internet or a network except for programs and services that you trust. Windows Firewall helps you identify programs and services that may pose security threats to your computer.
- Wireless Network Setup Wizard lets you easily create a secure wireless network. You can choose the security scheme to be WEP or WPA. WPA gives stronger security to your network, but you'll have to make sure that your hardware (network adapter and access point) supports WPA.
- Bluetooth taskbar icon helps you add a Bluetooth device using Add Bluetooth Device Wizard, configure your Bluetooth adapter and devices using Bluetooth Devices, send and receive files using Bluetooth File Transfer Wizard, connect to the Internet and join a personal area network using Bluetooth Personal Area Network. Previous versions of Windows rely on Bluetooth configuration software that comes from the Bluetooth device vendor.