How to configure a Bluetooth headset in Windows XP (SP2)?
Overview
Bluetooth headset is commonly used to free hands while receiving a cellular phone call. This application is facilitated by headset profile (HSP) in Bluetooth specification. The profile can be used for other application as well, this tutorial illustrates the use of Bluetooth headset as an audio input and output device of a PC. When a Bluetooth headset is connected to a PC, it functions as a wireless microphone and speaker for an audio application, such as an Internet softphone (VoIP client), IM, media player, video conferencing, voice chatting.
If you wish to have more features from a headset, you may want to try a Bluetooth stereo headphone. The setup of this device on PC is much like that of a Bluetooth headset, but it supports Advanced Audio Distribution Profile (A2DP) and Audio Video Remote Control Profile (AVRCP) in addition to the basic HSP. Therefore, besides being a microphone and speaker with stereo output, this device also functions as a remote control. You can control your media player (i.e. Play, Stop, Pause, etc.) from your Bluetooth stereo headphone.
For this demo, we used an Akono Bluetooth headset from Sony Ericsson, a PC running Windows XP SP2, and a USB Bluetooth adapter with TOSHIBA Bluetooth stack. You can follow the general procedure in this article for configuring similar products from other brands. It basically consists of device discovery (i.e. to find a Bluetooth headset nearby), pairing (authentication for creating a secure connection), service discovery (whether the device supports headset profile) and connection setup.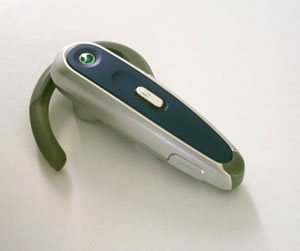 Figure. Bluetooth headset.